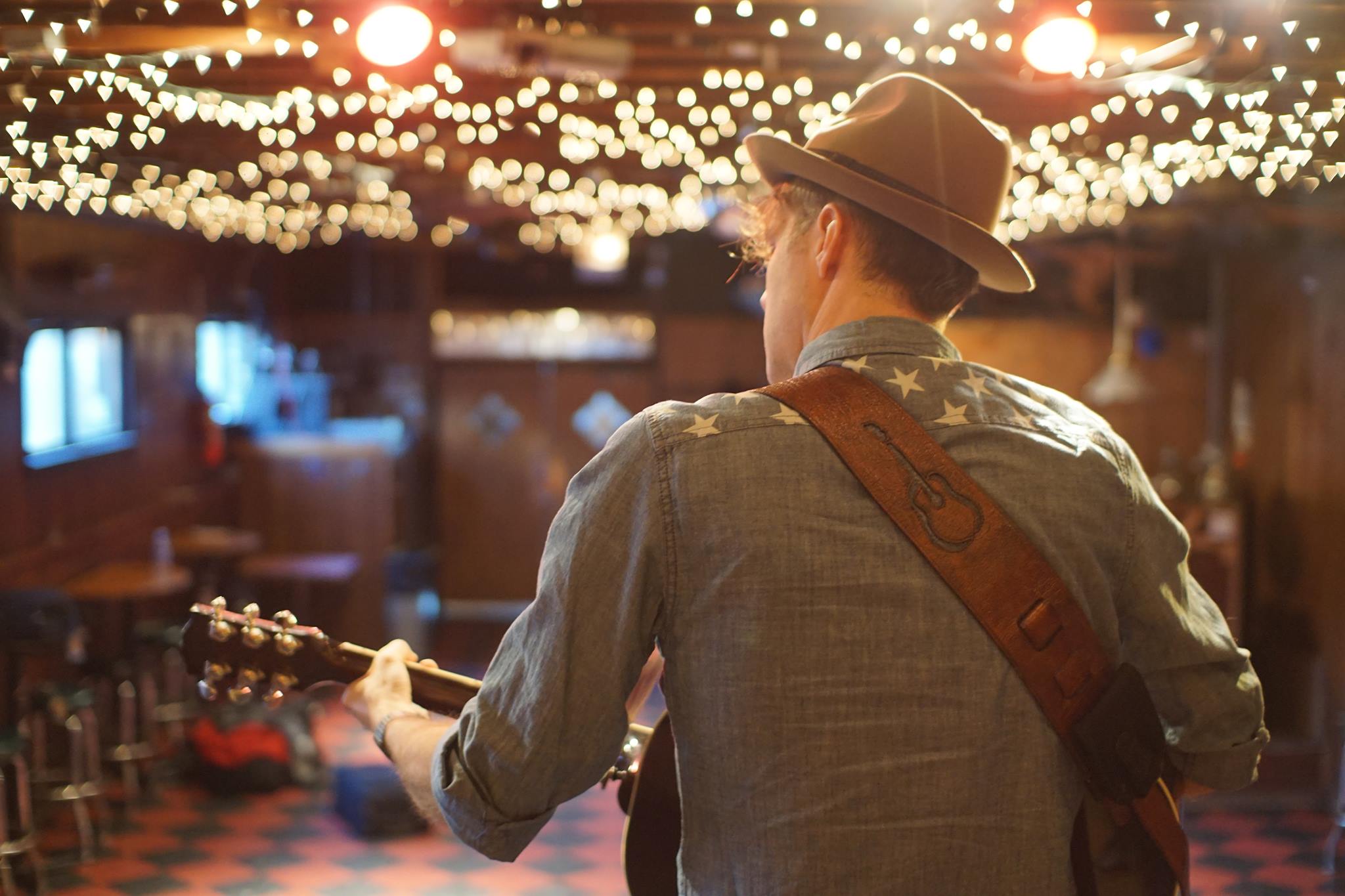 Last man standing...
Over the last decade Connecticut native Stephen Kellogg has performed more than 1500 concerts around the world, raised thousands of dollars for causes close to his heart, been named Armed Forces Entertainer of the Year, and penned singles for artists like "American Idol" winner Nick Fradiani and legendary guitarist Robert Randolph. He's also had his songs covered by international major label acts and released eight albums of his own that have yielded hundreds of thousands of ticket and album sales.

When it comes to performing, CBS radio has called him "the best live act you've never seen" and another writer for No Depression gives him the oddly flattering title "the best songwriter you're not listening to." Filmmaker Peter Harding was so moved by the underground nature of Stephen's story that he made a documentary called "Last Man Standing" which went on to become an Amazon exclusive film. While it's true that Kellogg may not currently be a household name to everyone, he has persisted in building a substantial career that has landed him onstage with some of the biggest and best touring bands in the world (Train, Sugarland, Jason Isbell, Sara Bareilles, Hanson and OAR to name a few). Kellogg's music has found it's way onto the Billboard charts and been featured in numerous films and TV shows. His Americana-tinged, folk, pop and rock stylings can make his sound hard to define, but to his core this musician and father of four brings heart and incredible energy to everything he does.

Stephen's home on the Interwebs
And the Face Book
And the IG's
On the Tube
Annnnd the Spotify
Katie again— and man, is my job easy this week. As a creative writing professor, I'm often looking for the story when I sit down to write, even though the former music blogger in me is playing tug-of-war and reminding me to stick to the music. Stephen Kellogg is someone who is talented in so many different ways, who has done so much with his life, and who is still reaching out into new areas— so please, indulge the storyteller in me while I tell you about Kellogg's wild, open heart.
If you're a folk or Americana fan, I know that you already know who Stephen Kellogg and the Sixers are. They've been a staple of the scene since 2003. (If you aren't already listening, if you like artists who use clever writing and upbeat styles, like Josh Ritter and Matt Nathanson, Stephen Kellogg is going to be your new favorite songwriter.) And while he performs and records mostly under his own name now, what's most impressive to me about Kellogg— and maybe about any person I meet (looking forward to it, Stephen!)— he is absolutely, 100% sincere. There isn't irony or sarcasm in this music. There isn't bitterness and hatred in this music. Stephen Kellogg is a good man who happens to have connected with a large group of fans, all magically without having to change who he is.
Married to his high school sweetheart and a father of four daughters, Kellogg's most recent record, South, West, North, East, is a beautiful display of— well, his heart. The process was incredible: he traveled around the country and worked with musicians and producers in those regions. It turned into an incredibly profound piece of art that might be the only genuine thing we can call "Americana," since it actually found a way to include every part of the country. I'm originally from Texas, and I won't lie— I identified a lot with the south songs, especially "The Wild Heart" and "The Open Heart." But who wouldn't?
I was thinking about the man I thought I'd be
He had confidence as I recall, footlights dancing at his feet
Sometimes what we sign up for, ain't exactly what it seems
But I was thinking about the man I thought I'd be

And I guess some how I got a bit distracted
You deserve what I had promised from the start
And I still shudder at the memory of my failures and mistakes
Hey so what, it opened up my heart
But hey so what, it opened up my heart
I think we all know the feeling of sitting in bed, counting whatever mistakes we've made in our lives, unable to sleep— but what a way to think about it. Those experiences are what open up our hearts. Heartbreak is what makes us more vulnerable and more receptive to other people— sometimes, I think it might be the only truly universal experience. Kellogg writes about it deftly, with a sweetness and empathy towards the other character, and a begrudging forgiveness for himself (is there any other kind of self-forgiveness?).
Of course, you already read what I told you about him, so you know he's not writing this narrator as himself. Kellogg is an amazing persona writer, and he seems to enjoy delving into these different geographic regions and finding out what glues them together. The expanse in "The Open Heart" absolutely fits the bill. What's most remarkable about the record, perhaps, is that it's all glued together and united, like we all consider this country to be, though that's a very difficult thing to do with music. The regions flow seamlessly together, and Kellogg's voice, earnest and clear, excels in every area.
I think what makes Kellogg stand out most for me, though, is that he writes more than just music. (I keep mentioning that "professor" thing…). First, in 2013, he gave a TEDxTalk about job satisfaction— which you really should listen to. He finds a way to make his experiences seem universal, even though very few of us are touring musicians. After admitting his first goal was to "be Bon Jovi," he finds himself in his first job making $6 an hour in a mall kiosk— with "not a lot of room to practice leg kicks." He says that over time, that work, too, became satisfying. Stephen Kellogg is a joyful man, and that joy is infectious. The talk is geared on how to bring joy to your daily life, and it's absolutely riveting.
He's also crowdfunding a new record— and book— right now. He's doing both things at the same time. I can't brush my teeth and think anything other than, "Keep brushing your teeth," most mornings, so the idea of having two projects that large looming is intimidating. If you watch the video on his website, though, you don't get the impression he's intimidated: he looks like a man ready to act, someone who is really excited about everything, and most of all, someone who is absolutely capable of the task. I think the scarier thing is, he makes me feel like, "Yeah! I'm going to make a record and write a book, too!" (Anyone who knows me will vouch that I can only do one of those things, and it's certainly not something I greet with excitement— it's like, "Fantastic, I have to make another top ten record now…").
Underwater Sunshine Fest is about creating a community of people, sure, but that community will be held together by several things: first, a love of music, but second, a joy in the expression of that love. We always hope that the third thing that brings us all together is a natural enthusiasm: a happiness at congregating with people who don't roll their eyes at our sincere excitement. Stephen Kellogg is an absolute mascot for that kind of sincerity and joy.